I did a calculation today. Of the good number of leads, from multiple sources, that we have received over a period of time, the breakdown is as follows: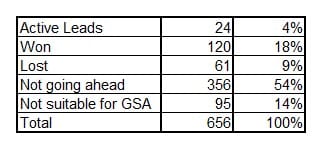 A deeper dive, of course, reveals all kinds of interesting information. However, the basics are quite clear. We convert roughly 1 in 5 leads. Of those that are relevant, our conversion rate increases from 18-21%. 
That probably taught me what I already knew, that business development is about the numbers
Feedback is Essential to Learn 
I go out of my way to gain feedback when we don't win business. This is hugely important. I need to know what we're not doing right and where we can improve. Every so often we lose on price but generally that's where it's a smaller exercise and I'm comfortable with that given that we win our fair share. We are usually competitive, not the most expensive and not the cheapest.
We also ask for Google Reviews and testimonials once we have completed a successful campaign so that our hard work can contribute to our SEO. 
A Good Ongoing Pipeline is Imperative
Ultimately, you can't convert a lead that you don't have. Therefore, ensuring that you have sufficient sales leads in your funnel is vital. There will be inevitable peaks and troughs whether that is due to seasonality, the economy or other factors. However, some means of business development is essential to fuel growth.
You Can't Win them All
Perhaps it's down to age, but I have become pretty sanguine. Naturally, I want to win every (good) opportunity. But that's not reality. Many of those we lost were situations where we got down to the final two combatants and we simply lost out. There was nothing we could have done and it was just a 'gut feel' decision. The feedback was invariably positive but, once again, it is a numbers game. 
On the odd occasion, when our competitors have under-delivered, we do get the opportunity to pick things up and win subsequent work. Sadly though, it's often a case of 'once bitten, twice shy'. 
Get Used to Tyre-Kickers
I don't really feel comfortable using this heading since it's not true that the large majority of those that make an inquiry are tyre-kickers. They almost always have a need for business development. However, many arrive with limited knowledge of their options and are casting around to investigate what might work for them. There are many channels from which to choose. Budgets differ. Expectations differ. The urgency can be different. And, things change e.g. suddenly winning a large client. 
So, not everyone is a time-waster, but you do need to be prepared to invest your time and energy into some leads that simply will never convert. 
You'll Get Some Dross
Thankfully, our level of leads that are not suitable is not as high as some. It could be higher. Yet, we do receive incoming leads that are just not viable for us. This is often down to budget or expectations. We are totally transparent, pragmatic and flexible in the way we work. If that doesn't suit some, so be it. In many cases, it's not their fault if they don't know what the likely success ratios are. For others, their expectations are wholly inappropriate, expecting us to work for nothing, anticipating ridiculous levels of success or imagining that there is a silver bullet that creates success overnight. 
We can't legislate for these. I'm not sure that I've always been successful in sniffing these out, as I like to invest time to provide advice to everyone. However, you can't run a business without the need to kiss some frogs along the way. 
A Good Spread of Leads is Important
It's essential not to be over-reliant on one means or channel for lead generation. If that fails, your business will suffer. We're pretty pleased with our spread. Around a third comes from Google and similar online sources. We also have a third from repeat clients which is pleasing given that most of our business is campaign-driven. Another third or so comes from referrals and recommendations. Hence, we get a good blend of warm leads. What's more, we don;t spend a penny on SEO, advertising and other marketing other than producing informative content such as this blog which helps our search engine rankings. 
Have you got sufficient spread in your lead generation efforts? 
What's the Conclusion?
In reality, the conclusion is what we all know. Most businesses need a healthy and regular pipeline of leads to prosper. Those leads can come from existing customers for new work, or from fresh prospects. Leads can come in from any channel and, ideally, a good number will be from referrals and repeat business. However they arrive, work hard to respond swiftly and maximise the chance of success. However, recognise that a dose of realism is required. Don't be overly discouraged by those you don't win but do your best to convert. 
I have an expression that I regularly use when I run telemarketing training. It is not meant to be taken literally, or out of context. However, the principle is key to keep in mind.
Some will. Some won't. So what. Move on!